Ready for installation?
Five things to consider before you install. Installations are simple and quick if everything is in place before hand.
1. Internet Connection Speed
Your Freshphone service runs over your internet connection, not traditional phone lines. Because internet service is so important, we recommend a minimum of 6 Mbps download, 1.5 Mbps upload, and a ping of 100 ms or less. Want to check if your network is ready? Click the button below.
2. Wiring
Your phones use Cat5 (also Cat5e/Cat6) ethernet cable, which is the industry standard network cable nationally. These are the same cords you would plug into a computer to give it internet access from a router. For your Freshphone installation, each phone requires one of these cords with internet access (unless it is a Wifi-enabled device).
All of the desk phones we provide have dual ethernet ports, which gives you a "pass-through" port so you can hook up the phone next to a computer without running extra wires through your walls.  This means if you already have a device with ethernet near the phone's desired location, then that cord may be unplugged from the original device and plugged into the phone. From there, the pass-through port can be used to provide internet to the original device.
In many office setups there is an ethernet cable at each workstation. The pass-through port makes installing new phones easy! Simply plug the ethernet cable into the phone and then run a second ethernet cable (provided by Freshphone) back to your computer.
The image below shows the PC port ("Port 1") and the LAN port ("Port 2"). Plug the internet source into Port 2, and then run a short cable (provided by Freshphone) from Port 1 to your computer.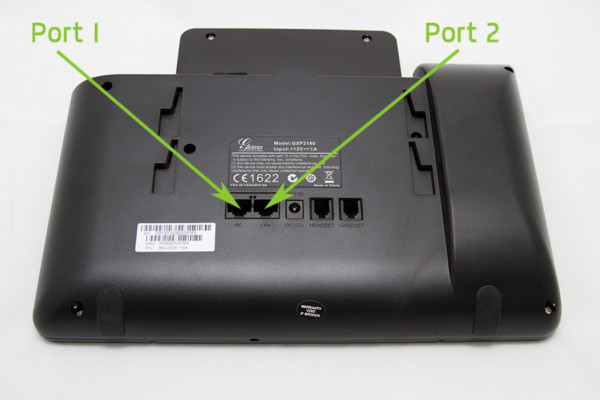 3. Network Equipment
Network equipment includes modems, routers, firewalls, switches, and the like. We recommend that all network equipment be maintained regularly and replace old equipment as necessary. Our VoIP phones do not require their own separate network or subnet (you may configure one if you like).
Advanced Configuration
Most routers work without needing any additional configuration. Your phones are tested and confirmed to work before before being shipped out. If you experience an issue after plugging in your phones, look at changing these settings first in your router (if they exist):
Disable SIP ALG
Enable Consistent NAT
Set UDP Port Timeout to 120 seconds
Another common network misconfiguration is to have two routers in sequence. This creates multiple internal NATs, which in most cases is unintentional and will cause problems.
4. Installation Questions
If you have questions about installing your new phones, call Freshphone at 855.796.8897. The Freshphone team is happy to field any specific questions you have during or after the installation.
5. Training
To assist with any questions, Help Guides are posted on www.freshphone.com/support. You can view Help Guides to learn about transferring calls, accessing voicemail, and more! There is also a printable Cheat Sheet of common features.